AN INTEGRATED
TOWNSHIP
FOR LIVE
WORK AND LEISURE
Landmark village is the biggest green township project of Calicut Landmark Builders. It presents our integrated township project in Calicut, a unique residential destination located in one of Calicut's favourite residential regions, Kaithapoyil. We promises to provide residents with a tranquil sanctuary away from the hustle and bustle of the city. Choose from our range of luxury homes and experience true independence in a vibrant, secure and friendly environment that is designed to make life better. Set on 20 acres of lush greenery, Landmark Village offers apartments, sky villas and duplexes that elegantly blend smart designs, brilliant architecture and decor. Our integrated township project is here to redefine the standards of modern living with its urban infrastructure and beyond-basic amenities. These premium sky villas and apartments are snuggly cocooned amidst scenic mountains and valleys, the fact that it is located close to Markaz Knowledge city makes it an ideal choice for those seeking the vibrancy of integrated township in the form of elite educational institutions, medical establishments and recreational facilities. Life is about moments, so enjoy these fortunes, at awesome best here.
Tower 2 of Landmark Village is the residential tower provide well ventilated spacious living spaces comprising of 2 BHK to 3 BHK flats…
Tower 3 of Landmark Village is the residential tower comprising of 2,3 BHK apartments, sky villas, duplexes that have balconies which provide…
Tower 4 of Landmark Village is the residential tower comprises of economically apartments, 2 BHK and duplexes  that…
Tower 5 of Landmark Village is the exclusive luxury spot, which gives you a luxury royal living. The luxuriously appointed spaces…
Tower 7 phase 1 of Landmark Village is the prime spot at Markaz knowledge city. Tower 7 is residential cum commercial apartment consist of 1 BHK…
Tower 7 phase 2 is the prime spot at Markaz knowledge city. Landmark Village tower 7 is a residential cum commercial apartment consist of studio…
Inspired by the principle of 70:30 open space style, Landmark Builders Calicut; the expert builder, designed Landmark village to elevate the concept of Green living. With 70% of the spaces dedicated to recreational and outdoor activities, you get to enjoy the peaceful ambience and enchanting experiences of breathtaking views of the surrounding landscapes. As Jane Austen says, there is nothing like staying at home for real comfort!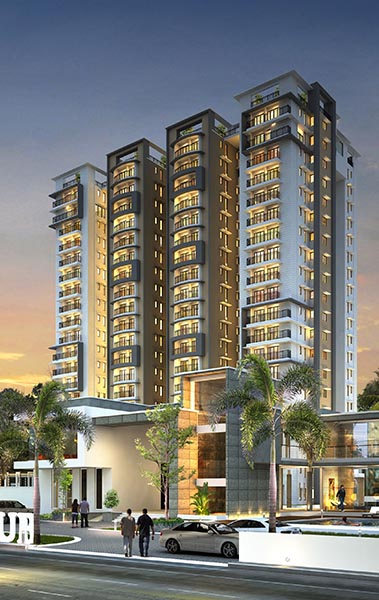 With Wayanad hills as a neighbour, Landmark Village is a place where you can revel in breath-taking views of the lush green mountains all day long. Every unit of Landmark Village is tailored in such a way that you get to enjoy a free flow of fresh, natural air and light from the windows and balconies. Take a stroll through the grassy slants, and you can loosen up from all the tensions and hustles of modern life. Or you can enjoy a break by taking a hike across the hill stations of Calicut which is rich in bio-diversity while having numerous mountain caves and tree houses.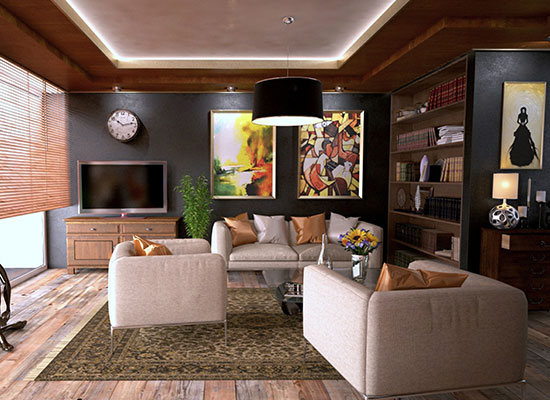 Landmark Village offers you opulent and ultra-spacious apartments, duplexes and sky villas for your comfort. These spaces are ideal for home and office purposes and can help in balancing home and work-life balance. Each of these units is meticulously planned and designed to meet the contemporary needs of modern lifestyle while blending nature with its core architecture. With the most exquisite fixtures and fittings, the interiors give an air of grandeur which gets enhanced further by natural light and ventilation.
Landmark village have raised the concept of luxury flats in Calicut by offering optimum privacy, security and comfort to its residents. The apartment complexes are surrounded by compound walls and security personnel 24 × 7 to ensure the safety of each and every person residing in the gated community. With these surveillance measures, you can be at ease and make your life hassle-free.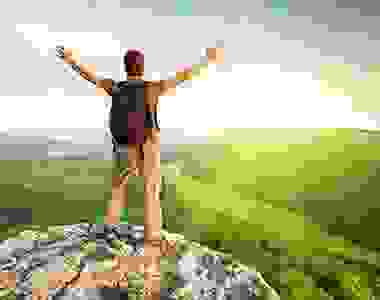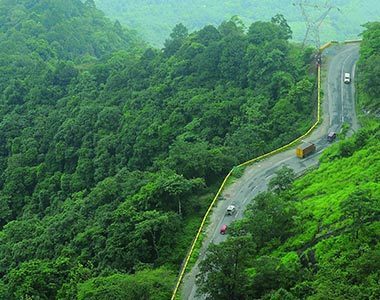 Landmark Village located at Kaithapoyil is just 40 kilometres away from Calicut. As it is close to the Calicut – Wayanad National Highway 212, Landmark village is easily accessible by road, rail and air. On top, it gives the residents easy access to all the necessary necessities and urban comforts of the city.
LANDMARK VILLAGE WALKTHROUGH